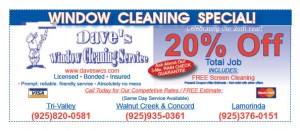 Window Cleaning East Bay  
click to print
[starrating]
Window Cleaning East Bay, Bay Area Screen Cleaning – 20% Off , Rain Check Guarantee
DAVE'S WINDOW CLEANING    (925)935-0361 www.daveswcs.com   Licensed  Bonded  ¢ Insured
Professional window cleaners , screen cleaning Bay Area serving   East Bay,Contra Costa, Alameda County, TriValley  including Walnut Creek, Concord, Danville, San Ramon, Dublin, Pleasanton, Orinda, Lafayette, Alamo, Blackhawk, Eastbay, Bay Area, CA. Window washers East Bay, Bay Area screen cleaning, Spring Cleaning Bay Area.

East Bay Window Cleaning –  Prompt. reliable. friendly service  Absolutely no messCall Today for Our Competetive Rates / FREE Estimate  (925)935-0361 -ASK ABOUT RAIN CHECK GUARANTEE!  Click above coupon to enlarge and print for 20% discount
East Bay Window Cleaning, Contra Costa Window Cleaning, Window Washing Walnut Creek, Lafayette, Alamo, Danville
Are you looking for a reliable pressure washing or window cleaning business in Walnut Creek, Ca, Concord, Lafayette,Danville and Contra Costa, Alameda county? Whether you are looking for residential or commercial, high–rise window cleaning service in CA, we can guarantee you quality workmanship, prompt and courteous services at reasonable prices.
Window Cleaning East Bay
Our mission: To provide the most outstanding Window Cleaning service experience ever!
Dave's Window Cleaning offers the best local window cleaning services with prompt, dependable service at reasonable prices. Whether you're interested in residential window cleaning, we are very flexible with our schedules and will be there when we promise, guaranteed. We screen all our employees for your safety and peace of mind.
Window cleaning can be  dangerous work! Let the professionals at Dave's Window Cleaning  make your windows look like new with our safe, expedient, and cost-effective   window cleaning services. We have over 20 years of  cleaning experience, and the specialized equipment to give your home or office  the best cleaning possible.
We'll go a great lengths to ensure you are totally satisfied and thrilled with our services.
Our clients love us!   Don't trust your valuable property with just anyone – we're fully insured with full workman's comp and commercial liability insurance, which means that you don't have to worry about a thing while our careful, courteous window washers staff cleans your property.
EAST BAY WINDOW CLEANING: Did you know that sparkling-clean windows and pristine walls and patios can actually make your house look newer, cleaner and more attractive? If you're looking to sell or rent a property, an immaculate appearance can actually increase its value!
East Bay Window Cleaning, East Bay Window Wasing – Professional Window Cleaning Bay Area ,office window cleaning, screen cleaning,professional window cleaning,window cleaning,window washers,window cleaners, window washing service,building window cleaning, Bay Area cleaning.
Oakland, Berkeley, Walnut Creek, Concord,Danville, Lafayette, Alamo, Blackhawk, Orinda, Castro Valley, Alameda., San Francisco, Hayward, Richmond, El sobrante, San pablo, Pinole, Hercules, Pleasant Hill, Martinez, Pleasanton, San ramon, Danville, Dublin, San leandro, Alameda,El cerrito, Albany, Oakland, Fremont ,   East Bay, Eastbay, Bay Area, CA
94611,94610,94602,94619,94618,94704,94705,94706,94707,94708,94709,94805,94803,94806,94564,
94547,94702,94703,94710,94612,94608,94501,94502,94577,94578,94546,94552,94566,94588,94568,
94582,84583,94506,94526,94507,94549,94596,94595,94563,94553,94523,94507,94520
East Bay Window cleaning