Is it just us or is this a pretty pathetic latest Covid19 'update' from Contra Coata Health Adninistrator from May 18? Meanwhile, we cant get anywhere trying to renew our CA drivers license by May 31 deadline. Has that been extended too? Try reaching the DMV or navigatung their websites. As for the Patch report here by Allen Payton, how's about getting the administrator's name spelled correctly-spelled totally different in two places. Double incompetance?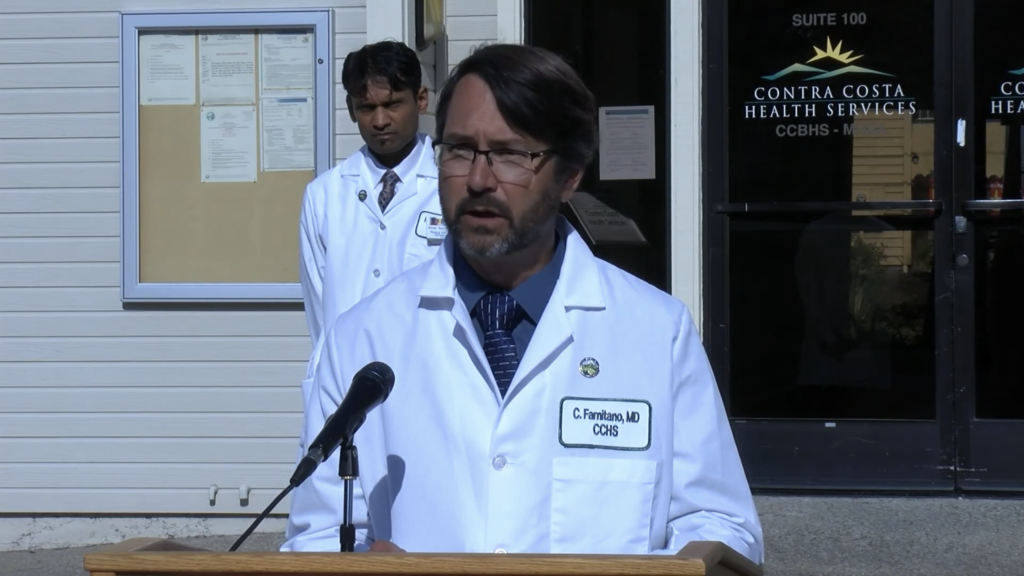 NEWS OF BY AND FOR THE PEOPLE OF CONTRA COSTA COUNTY, CALIFORNIA
COVID-19 Bad News: May 31st no longer end date for shelter-in-place in Contra Costa, will reopen on gradual basis
MAY 19, 2020 BY PUBLISHER 1 COMMENT
"It's encouraging. We're wanting it to continue going down. It certainly isn't going up." -County Health Officer, Dr. Chris Farnitano regarding COVID-19 statistics in Contra Costa.
"Contra Costa County Health Officer Dr. Christ Farmitano speaks during a press conference on Friday, March 20, 2020. Screenshot of YouTube video.
By Allen Payton
Due to the positive results over the past few weeks with the COVID-19 statistics in Contra Costa County, County Health Officer Dr. Chris Farnitano issued a new order, yesterday, Monday, May 18, 2020 that went into effect, today allowing certain retail and other businesses to reopen, within certain guidelines.
But, concerns from business owners and retail center property manager asking how it's supposed to work raised questions.
Asked if he or his staff spoke with retail store owners or shopping center property managers about the order before issuing it and how it's supposed to work, Dr. Farnitano replied, "We've been getting feedback from different stores and businesses. We haven't specifically asked them to review this particular language. This comes from state guidelines. So, our guidelines are in line with the state's Phase 2. They allowed it on the 8th of May, 11 days ago."
"It may be more helpful for small retail stores that don't have an online presence, not a larger store that does," he added. "Like craft breweries that weren't allowed prior, or other products that folks that people were used to going to the retail store for."
"The other big changes are the associated manufacturing and logistics, which pretty much covers any manufacturing that wasn't already allowed, like refineries, or agricultural product manufacturing," Farnitano continued. "The Tesla plant in Alameda County is one example."
"We might be going in a slightly slower pace than the state," he shared. "But there's less variability from one county to the next for the particular rules for a business to reopen."
When asked if the shelter-in-place order still ends on May 31st, Dr. Farnitano answered, "the new order that was issued yesterday and went into effect, today doesn't have an end date. That's really not practical or the intent, which was to reevaluate the situation before that date." (See related article)
"What we're really doing is to make a change, give it some time to see the affects of that change, and see the impact on our matrix," he continued. "We did that the last time two weeks ago on May 4 and because of the positive results from that we're able to open up more."
So, the reopening will be through a gradual, step by step process "driven by the data," Dr. Farnitano added.
"It's been pretty flat," he said about the curve. "We've been looking at seven-day averages. We've been running at 10 to 15 new cases a day for the past two weeks, and 15 to 20 in the hospital, each day"
"It's encouraging. We're wanting it to continue going down. It certainly isn't going up," Dr. Farnitano stated.
Asked when will the next order for more reopening be issued," We don't really have a time or particular day," he said. "We give it a couple weeks which is the incubation period for someone to be exposed and then experience symptoms." Then they reevaluate the situation at that time.
So, we can expect another update and hopefully more reopening of businesses and activities the first week of June."
FREE Weekly Updates —Latest, Greateat Deals, Tips and unbiased reporting
Are your electricity bills getting higher and higher each month, year by year? It's no coincidence! How Does it Actually Work? If your home is large, it is beneficial to place one unit close to the breaker box. >
#electricbills #save #savemoney
FILED UNDER: BUSINESS, HEALTH, NEWS
Comments
Jayati saysMAY 20, 2020 AT 8:34 AMMy biggest problem is I can't hug my grandkids. When do you think we could do that again ?Reply