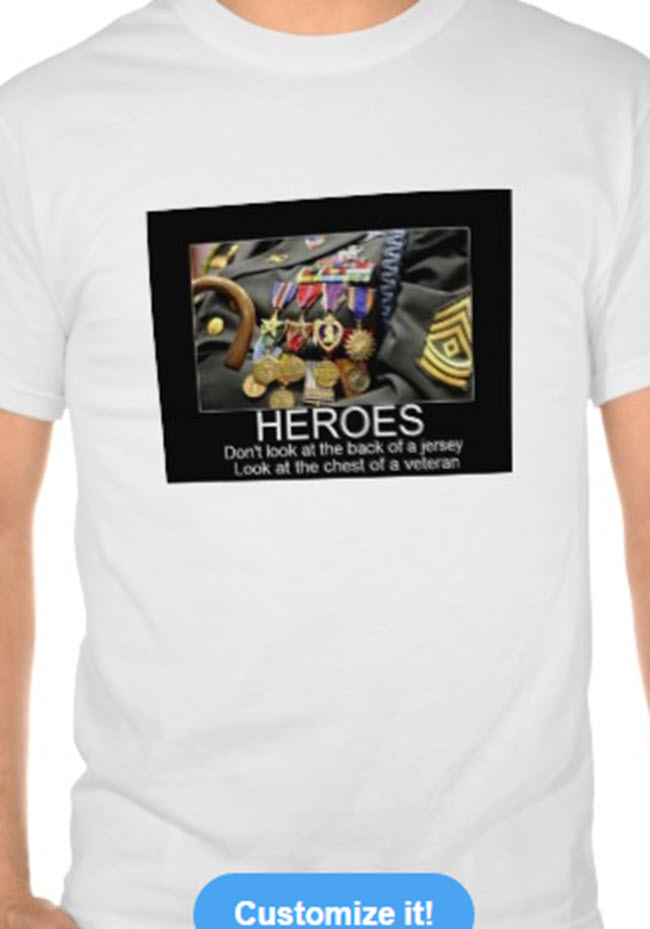 'DON'T LOOK AT THE BACK OF A JERSEY – LOOK AT THE CHEST OF A VETERAN!'
TSHIRTS ON SALE THRU VETERANS DAY W CODE

JCPENNEY VET'S DAY DEAL ONLINE and NOW IN-STORE DEAL, TOO!
MACY'S VETERAN'S DAY SALE Extra 20% Off + Free* Shipping w/
Code: VETDAY [
MACY'S SALE,JCPENNEY VETERAN'S DAYDEALS
Get to Macy's for their annual Sale. Starting today, get an extra 15% off plus free shipping with offer code VET15. Start by going to Macy's Coupons for more savings, exclusive offers and discounts, and click on Shop Now to link to the Macy's site. Other available offers are an extra 10% off select departments like home goods, and an extra 25% off all Clearance. Another piece of good news: you'll earn 9% Cash Back while our Holiday Shopping Extra Cash Back Limited Time Offer
**
Plan to shop jcpenney for a whopping 60% off select categories and doorbusters . Go to jcpenney Coupons for additional coupon savings and to earn 9% Cash Back too on your online purchases through the weekend! Plus, use your jcpenney rewards credit card on all home and luggage purchases and score up to 30% extra savings. For details, please refer to the jcp rewards mystery savings on the website. Limited time offer
**
Kohls is offering over 150 2-Day Specials for savings up to 60%. Then, take an extra 15-30% off everything when you use your Kohl's Charge, and everyone gets $10 for every $50 spent in Kohl's Cash. Go to Kohl's Coupons and start shopping where you'll also snag 4% Cash Back from us through the weekend as we celebrate our Holiday Shopping Extra Cash Back Event.
**
Home Depot is serving those who served us all by donating 5% of each Celebration of Service gift card purchased to The Home Depot Foundation. This assists with housing needs of U.S. military veterans. Go to Home Depot Coupons, start shopping, earn 3% Cash Back, and show you care.
**
Big Lots Go to Big Lots Coupons for money-saving offers, and link to the site to start shopping and saving 10% all day. This Big Lots 10% off discount is only offered LIMITED TIME. .
**
Last, but certainly not least, Sears is holding Sale with 5-15% off . Plus, enter code REALJOY and snag 15% off clothing and items for the home. Go to Sears Coupons, earn a whopping 10% Cash Back Limited time offer
Macy's,jcpenney Veterans Day deals