This year's Centennial celebration includes the return of the downtown Pleasanton Parade, a brand new concert format, and a variety of distinctive memorabilia chronicling its 100 year history.
http://www.alamedacountyfair.com/2012fair/
The first Alameda County Fair ran from October 23 to October 27, 1912. Local leaders sought to form a modern fair, and in 1939 the Alameda County Fair Association was born. Once considered a racing fair, the Alameda County Fair now boasts livestock and agriculture, thrilling carnival rides, beautiful quilt exhibits, baking contests, fast-paced horse racing, or simply a corn dog. Come join the celebration as the Alameda County Fair celebrates its 100th milestone.
HISTORY
We've been to a lot of  Country Fairs over the years – all the Bay Area ones and some as far away as the famed Erie County Fair  in Buffalo, New York. Of all of them we like our own Alameda County Fair right here in Pleasanton, CA. Why? Because  it looks  and feels like a county fair, not some urban fair trying to masquerade as  a real county fair like San Francisco's or Marin's.  This one has it all including a full stable of  farm animals, a large 4H exhibit hall, FREE name concerts nightly (included with admission), every kind of fair food you could imagine, a full midway of carnival rides and games, three exhibit halls of interesting gadgets , nicknacks, gemstones, etc, a  major garden display, every kind of fair food you could ask for such as funnel cakes,  BBQ, corn dogs, pepper steaks,  cotton candy, pink popcorn and on and on.  One of our favorite attractions is the Wine Garden where Terry Hanks and his blues band has played the last several years. Worth the price of admission alone.
FREE CONCERTS FEATURED MOST OF THE GREATS!
Over the years we've seen music talent like the Platters, 'The Diamonds, Donnie Brooks and his cavalcades of stars including Tiny Tim,  Badfinger, Pat Upton, Cannibal and the Headhunters , Al Wilson and many more (it was a sad day when Brooks stopped coming around), Pat Boone, Neil Sedaka, Freddy Fender,  Annette and Frankie. Johnny Cash,  Bo Diddley,  Marty Robbins , Tower of Power and on and on.
The music today may have changed , sadly, but the fair remains much as the same as  it has many of those 100 years. The grounds, in themselves, are  a pleasure to behold- the  bucolic stretches of  shade trees and grasses set as a backdrop to the many food stands and exhibits, carnival rides and animals.
 http://www.alamedacountyfair.com/2012fair/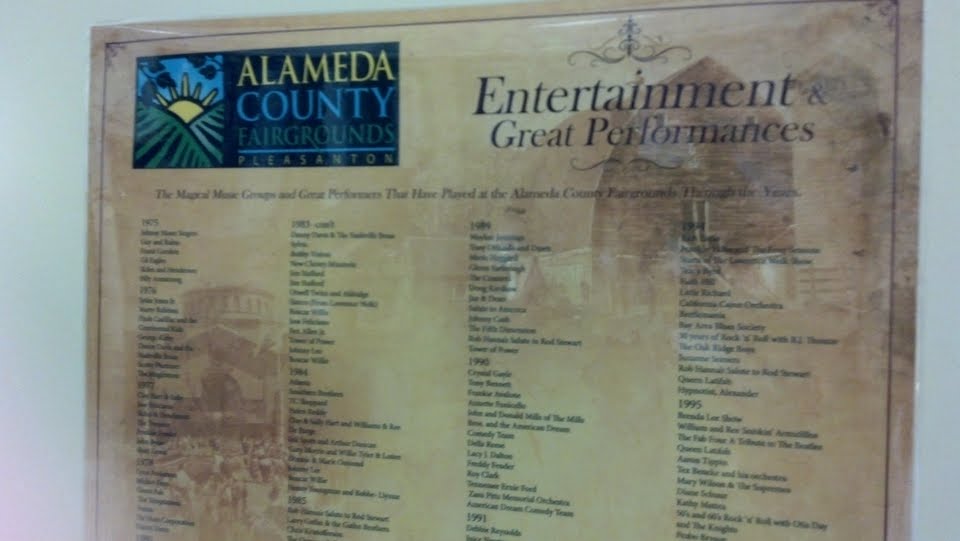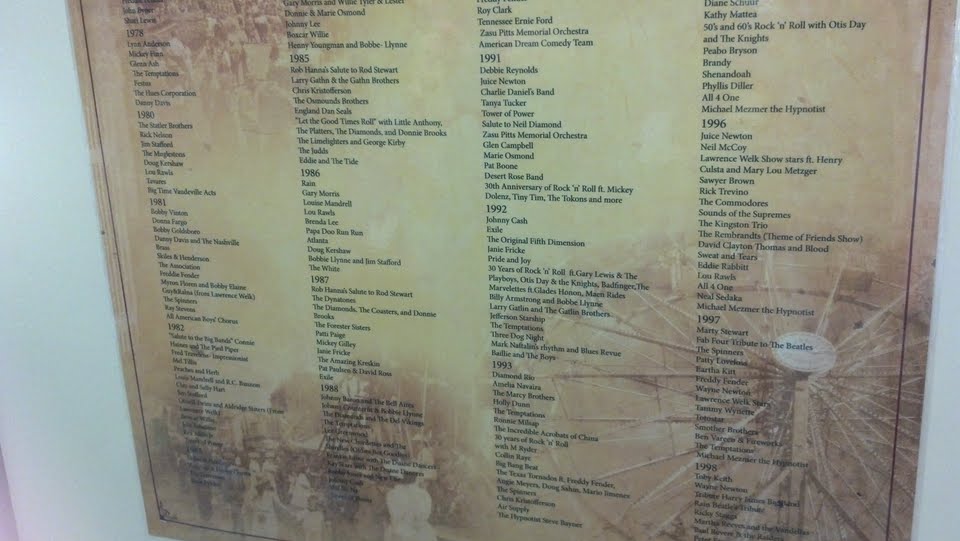 1985 Breakthrough year for me, perhaps the best, with GATLIN BROTHERS,CHRIS
CHRISTOFFERSON , THE LIMELIGHTERS, GEORGE KIRBY and esPEecially 'LET THE GOOD TIMES ROLL' with LITTLE ANTHONY,
THE PLATTERS, THE DIAMONDS hosted by DONNIE BROOKS. The Platters
and Diamonds were not originals except the Platters were lead by
PAUL ROBI, a very funny original member, now deceased. The lead singer
employed by Robi , ELMER HOPPER, though not an original might as well have been Even though
none of the Diamonds appeared to original, they too very very funny,
led by Bob _______. I was actually able to record this concert
and very proud because it was classic. The music quality was superb
and the groups were especially funny , including Little, and I would
soon become a big fan of MC DONNIE ('Mission Bell') BROOKS, who MC'd the show and told some fun one liners. He would come back many years afterthis with a changing cavalcate of stars we always looked forward to.
The concert line-up started slipping a deacade ago when Brooks stopped
appearing with his oldies stars and I heard he passed away a few years
ago not long after a serious car accident.
1986 GARY MORRIS, BRENDA LEE, PAPA DOO RUN RUN – I remember these as standout performances.
1987 DONNIE BROOKS back with the DIAMONDS and COASTERS, as above. AMAZING KRESKIN added
a little variety this year, also PAT PAULSON plus PATTY PAGE.
1988 – The DIAMONDS (but this time, I believer, a totally difernet Diamond group
at a time when unauthorized gbroups were using original group names.Also The New Chordettes.
Shirelles (west coast group featuring original DORIS JACKSON,a star in
her own right who because a regular for about 5 years on the oldies circuit -probably let
by local oldies back up band . Also FRANKLIE LAINES, KAYE STAR, SHA NA NA AND JOHNNY CASH made his first appearance. THIS WAS A GREAT OLDIES YEAR, including for ROY ORBISON, who would stage a major comeback with a top new album and suucess with the
Traveling Wilburys.